LOUISA - Quart de Poblet - 05/08/17
Beach, Barraca, Boots tour
We as EWOCA family spent a nice afternoon in El Palmar on Saturday, the 5th of August 2017.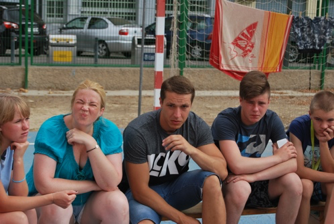 There we drove to the beach us to cool down. The water was pleasantly warm and we had a lot of fun together.  Then we drove with a boat out on the lake to look at the sunset. The name of the lake is Albufera.
The captain told us about the rice fields and the lake. The lake had 30,000 ha before 25,000 ha had been cultivated for rice fields and on 2,000 ha, roads and buildings have been built. The lake is connected to the Mediterranean Sea and consists of mixed sweet and salty water.  The captain then told us when the rice fields were dry and when they were harvested. We also visited the last original Barraca, a traditional old house, made of clay, straw and bamboo.